the coolest drum school in town
Put some drumlove into it
Our main selection is on a human level as that is how we were able to have such a DRUMAZING gang full of people from all over the world brought together by the same passion and attitude to "conquer the drum-world", grow, share and have lots of fun in the process! Get ready to rock like never before!
Our drummers range from complete beginners to musicians with a very advanced musical background. If you think you are too young, too old, too good or not good enough, your are mistaken: let's build together the best plan and experience to take you from where you are to where you want to be… AND BEYOND! 
Join one of the most drumazing communities in the world!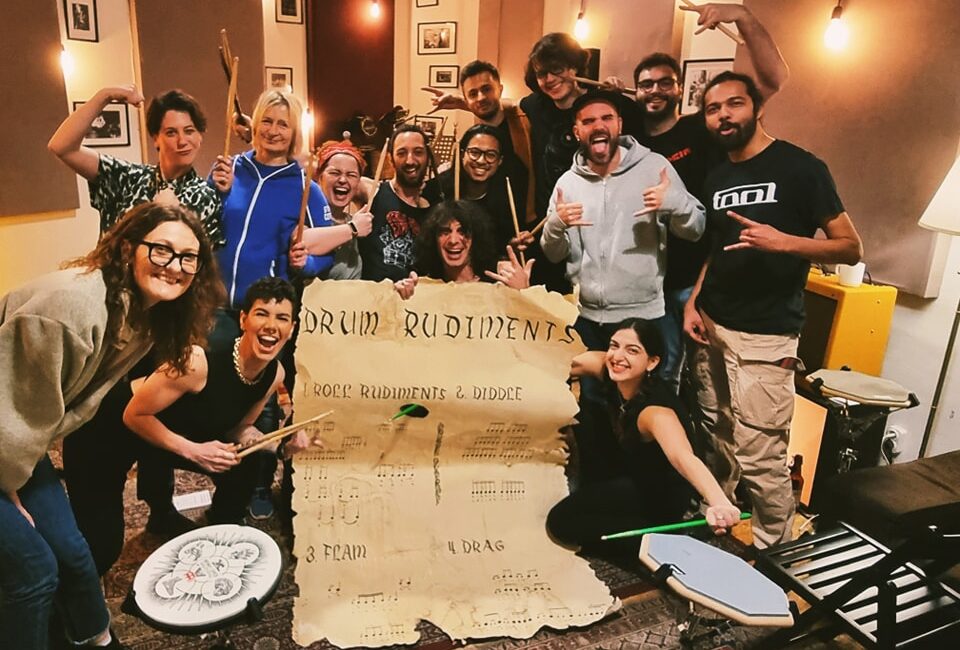 BERLIN DRUM EXPERIENCE is a multi-location drumschool! All of our locations have a parking space available for free right outside. Our students even have their own practice room to use as they please for FREE 24/7! WOW!
We welcome students from all around Berlin and we will be making your travel time worth it. You can request a location, but the final spot depends on scheduling, availability of the teachers and topic of the lesson.
You can click on the locations below to check out where to find us on Google Maps. Let's stay flexible: let's learn 🙂
SEE YOU THERE!
Variable schedule
Our beautiful partner studios CASTALIAN SPRING!  5 minutes walk from the S-Bahn Wedding. or U6 Reinickendorfer Str. 
Schulzendorfer Straße 24,
OUR 24/7 BDE DRUM PARADISE!
Two of our own studios located at the end of Lichtenberg/beginning of Marzahn, near IKEA and easily reachable with many tram lines. They are a little bit more far out for most students, but they allow us for extreme time flexibility! We love it!
Marzahnerstraße 24B
10 minutes walk from OSTKREUZ S-Bahn or Frankfurter Allee S-Bahn/U-Bahn.
Wiesenweg 5-9
24/7 – Our partner location used for the "Physical Training for Drummers" course! Thanks to the contemporary ballet school ZEST – Torstraße 161  
by our teacher Giulia Mandelli. 
We hold regular lessons on ZOOM to learn specific topics regarding Theory & Tecnique. The focus is higher, you save communiting time and optimize time when we are in front of the instrument!
Daily for our students – Online free guided practice sessions with a teacher!
You are about to join a very particular reality in Berlin. Our drumgang consists of a beautiful group of people from all over the world, studying, learning and enjoying the drumming world while sharing the same passion. Our founding teacher Marco Rivagli put his love, passion and expertise to build a strong and powerful community with the precious collaboration of Nahuel Arias, Oshan Saxena, Giulia Mandelli, Roberto Badoglio, Daniel Glass & Federica Villi.
Together we will help you not to "just" play drums, but to rather BE and FEEL like a drummer from day ONE… and every following day! A true and complete 360° drum/music/life experience… with a proper BERLIN touch!
Drummer, performer & educator (The Fuzztones, Gut Reaction, Rabia Sorda) based in Berlin since 2013. Here is a little story in case you are interested! Marco was born in Italy in 1987 in a family of musicians. He starts playing drums and percussions at the age of 3, studying from age 10 with many incredible and international teachers (Giorgio Gandino, Fiorenzo Sordini, Paolo Franciscone, Alessandro Minetto, Enzo Zirilli, Stefano Bagnoli & Elio Rivagli). He also frequented the CFM in Torino and participated at the Berklee Summer School (Umbria Jazz). 
He fell in love with the idea of becoming also a drum educator at age 17 and never stopped since!
After almost 20 years of experience in the art of teaching (both with children and adults, from complete beginners to very advanced musicians) he's continuously eager to learn more and more how to better inspire people and allow them to find their own personal style.
From the age of 18 he's part of many live and tv festivals and he's able to tour and visit the world thanks to this beautiful passion that now became his full time job. During the years, has the pleasure to collaborate in Mexico, Costa Rica, France, Greece, Czech Republic, Spain, Russia, Germany, Italy, Sweden,UK with many artists: The Fuzztones, Rabia Sorda, Sofi de la Torre, Sigue Sigue Sputnik Electronic, Simonetta Haupstadtharfe (MTV music awards), Experiment N.Q (With band members of the band Therion), Philipp Gorbachev & The Naked Man (BOILER ROOM, CTM, Outline) to quote a few.
Nahuel was born in Cles (1991), Italy, from an Argentinian family. His first encounter with music is in high-school where he starts playing guitar and joins soon many local bands. It's in 2012 that he finally discovers and falls in love with the world of percussion and, after having studied with different teachers, he decides to move to Berlin in 2015, where he meets Marco Rivagli. He then starts taking drum lessons with him, bringing his skills and focus to the next level. At the end of November 2017 Marco and Giulia Mandelli asked him to join Gut Reaction during the creation of their pièce "Plastic". In the summer of 2019 Nahuel joins the Ukrainian band Andrew Bear debuting at the Sternburg Festival in Leipzig. At the end of the year they will also fly to St.Petersburg for the recording of their second studio album. In the meantime, as well as working with local bands, he creates and performs 3 new pièce with Gut Reaction (Viri Sancti Libidinum, Zwang See & Humant). At the end of 2020 Nahuel starts his collaboration at the Berlin Drum Experience with a brand new concept course called "PPR" (Practice Pad Routine) as well as, after a few very intense years of educational training, having the chance to start teaching and sharing ideas during normal classes. At the moment Nahuel dedicates all of his efforts to music and performing arts, playing with the Berlin based electro punk band Patokai from Argentina, working with Gut Reaction, Andrew Bear and collaborating with other different bands and projects in the local and international scene.
My name is Oshan Saxena, I hail from India. I have been playing our beloved instrument drums for the past 15 years. I started as a drummer in a small school rock band and was fortunate enough to grow as a musicians with hard work and dedication and be able to have toured/shared stages/opened for the greats like Lamb of god, Metallica, Megadeth, Behemoth, Benighted and many more throughout Asia. I was also fortunate to have toured with some great Bollywood artists. I am a sucker for metal, prog rock, dnb, jazz and experimental music. I like to be as versatile as possible with my drumming because it adds vibrance to my personality as a human too and having an expansive vocabulary as a drummer helps me connect more with musicians and people. Although I have played a lot of metal throughout the years and double pedals is my forte, for the last couple of years I've started to create my unique approach and sound on the drum kit. I am very passionate about drums and an out of the box approach to playing it. I am looking forward to starting this journey based on double pedal usage and creativity with my pals from Berlin Drum Experience.
Professional dancer & Choreographer, co-founder and co-artistic director for GUT REACTION – Percussive Dance Theatre.
Giulia was born in Crema (Italy) in 1990. She began studying Ballet in the local Dance School at the age of 3. After mastering the studies of the Academic Ballet Techniques in several Professional National Centers with renowned teachers like Marinel Stefanescù, Liliana Cosi, Margarita Smirnova and Carmen Ragghianti, becomes student of the "Beltrami's Academy" state department of contemporary dance where she gets a degree in 2012. Soon after that, Giulia started dancing in several projects in Berlin.From October 2012 becomes part of "Dagipoli Dance Theatre" in Athen (Greece), therefore participating also for the BioMechanix European project. In 2013 Giulia comes back to Germany, dancing in various Siciliano Contemporary ballet's piéces. She also works in many other projects like "Istant /Berlin" and "SetTanz Theatre" in Nuremberg. In January 2015 co-creates the performative company "GutReaction, Percussive Dance Theatre" with the musician Marco Rivagli. Here Giulia started performing & choreographing with percussion. Her passion in understanding human anatomy led her in discovering a method to enforce a drumming body.
Roberto Badoglio is an ex pupil of bass guru's Matt Garrison and Dominique Di Piazza, in 2005 he attended Berklee College of music where he joined Joanne Brackeen Ensemble, formed the band Oddflow with Hara Garacci and Louis Cato and studied jazz Improvisation concepts privately with trombonist Hal Crook.Afterwords he moved to New York, joined the band of the pop avant-garde singer Adama and kept performing with Oddflow joined by Marko Djordjevic on drums. Roberto published several solo albums:Re Evaluation Time(2010), Beyond Turbines(2016) -in collaboration with Steve Hunt, Bjoessi Klütsch and Virgil Donati includes mostly Roberto's compositions -and Lapse Of Worry (2017). He's currently living in Berlin playing with the band of Italian famous act Nu Genea, Aly Keita Trio, Silent Jazz Ensemble, Raumshiff Jazz, For Free Hands and many others.
Daniel Glass, is an award-winning drummer, author, historian and educator based in New York City. He is widely recognized as an authority on classic American drumming and the evolution of American Popular Music. A member of the pioneering swing group Royal Crown Revue since 1994, Daniel has recorded and performed all over the world with a diverse roster of top artists, including Brian Setzer, Bette Midler, Liza Minnelli, Jose Feliciano, Michelle Shocked, Melissa Manchester, Mike Ness, Freddie Cole, Marilyn Maye, Air Supply's Graham Russell, the Hot Sardines, the Budapest Jazz Orchestra, Luann De Lesseps from the Real Housewives of New York, and KISS front man Gene Simmons. For two years running, Daniel was voted one of the top five R&B drummers in the world by readers of Modern Drummer and DRUM magazine. Since 2011, he has been the house drummer every Monday night at New York's legendary Birdland Jazz Club.
As an educator, Daniel has published five books and three DVDs, including the award-winning titles The Century Project , The Roots of Rock Drumming , and The Commandments of Early Rhythm and Blues Drumming . His curriculum on American Popular Music, From Ragtime to Rock , is used by hundreds of music educators in schools across the U.S. and Canada. Daniel is a regular contributor to publications like Modern Drummer, DRUM and Classic Drummer . He has performed hundreds of clinics and master classes globally, appearing at many of the world's top educational conferences and music festivals.
Since 2016, Daniel has hosted an annual 4-day Jazz Intensive in New York City, which draws an international student base, and hosts renowned guest clinicians like Carl Allen, Kenny Washington and Billy Ward. In 2021, Daniel hosted the first Daniel Glass European Jazz Intensive in Frankfurt, Germany.
In 2013, Daniel co-curated an exhibit on the history of the drum set at the Rhythm Discovery Center in Indianapolis, IN, for which he was awarded the Percussive Arts Society's "Distinguished Service Award." 

In 2023 started the collaboration at Berlin Drum Experience!
Federica was born in Riva del Garda (Italy) in 1993. She has been fascinated with photography since childhood spending hours in her cousin's darkroom, developing analogue films and discovering this passion. In 2007 she attends the Art Institute Hight School where she learned graphic design, digital and analogue photography post-production and video making. After attending the University of Trento in Cultural Heritage-History Art, in 2016 she graduated. During that period she does different internships in events and exposition in the North of Italy. Like the "Sommolago" books label and "SmarmellataProject" music and art events. In 2017 she moved to Berlin where she takes part at the "The Visual House" school, a Directing course with Marco Zaccaria,with which is still working as First Camera Assistant for "Generation Berlin" an unreleased series. Thanks to those skills she also collaborated in the short movie "Revolta!" an Osm Studio Production. Currently, beside working at the Zalando's Studio, she collaborates with different art projects shooting for bands, music events and models. She is the official Berlin based photographer for the "NOTE.Berlin" a Finnish Hair-Salon brand. Recently she had the opportunity to make pictures for the 40's year Album of "The Fuzztones". Since 2018 she is following "Gut Reaction Theatre" as fan and photographer in most of their shows! In 2022 started the DRUMSHOT project at BDE, an idea that will represent the ancestral and powerful connection between humans and percussion.